Three Card Poker has been around the casinos for many years now, receiving an extreme boost in popularity when online casino software developers started adding it to the extensive line-up of casino games. Three Card Poker is now offered at just about every casino on the internet, under the common names Three Card Poker, Tri Card Poker or Poker Three.
Three Card Poker Basics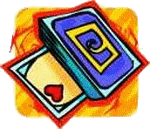 Three Card Poker is table game played with a traditional deck of 52 cards. Players compete one on one with the dealer, not other players.
The casino game offers two types of bets; the standard Ante/Play bets, and an optional Pair Plus side bet.
Three Card Poker – Rules of Play
Before any cards are dealt, the player is required to place their bets. There are three betting circles. The first two are found directly in front of the player on the table, labeled Ante and Play. The third is above the first two, marked Pair Plus.
A bet must be placed in the Ante betting circle in order to start a hand. A bet in the Pair Plus section is optional. We'll detail the Pair Plus bet a little later on.
The dealer will dole out a 3-card hand to the player, and another to himself. All cards are dealt face down. After the player looks at his cards, he will do one of the following, Play or Fold:
Play: If the player decides to play on, he must place a wager in the betting circle marked Play. The wager will be equal to his previous Ante bet.
Fold: If the player chooses not to play the hand, he can fold. When a player folds, the Ante bet is lost and the hand is over.
Three Card Poker – Winning and Losing
If the player chooses to play on, he will turn his hand face up, as will the dealer. Both hands are compared. If the dealer's hand is higher, the Ante and Play bets are both lost and the hand is over. If the player's hand is better, he wins, but the payout is a bit complex, depending on whether the dealer's hand "qualifies".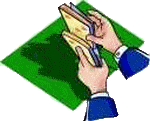 For the dealer's hand to qualify, he must have at least Queen high. Here's what will happen:
Dealer Hand Qualifies: The player is paid 1:1 on both the Ante and Play bet.
Dealer's Hand Doesn't Qualify: The player is paid 1:1 on the Ante bet, but the Play bet is returned without a payout.
Tie Hands: Should the player and dealer tie, the p