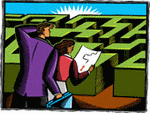 If you've ever been to a casino, you've probably heard the phrase "the house always wins." But to be honest, that's not always true; in many games, the player has a fighting chance to come out ahead on any given day, and in some cases, might even be a favorite to win against the casino in the long run.
The difference between winning and losing usually comes down to casino strategy. In almost any game in the casino, you can pick strategies that will lower the house edge or give you an advantage. Ignoring these casino strategies, on the other hand, will cost you money and guarantee that the house will win every time.
Of course, beyond the game strategies, there's also basic casino strategy that you should take into account each time you head into the casino. For instance, it's always a good idea to come up with a budget and stick to it; if you lose the money you came to play with, stop playing for the day. This will keep you from chasing losses or playing when you're angry or upset.
It's also a great idea to make sure you're taking part in your casino's rewards program (or at a live casino, make sure you have their rewards card). These programs often add a lot of value to your play, as they can earn you cash back or other valuable rewards. There's no real downside to using them, and playing without them is giving money away, so be sure to sign up for your casino's rewards program before you start playing!
Table Game Strategy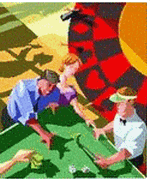 Table games offer some of the best odds in the casino for the player, and tend to be the most interactive of all the games. They have a social element, since you can interact with the other players and the dealer. These interactions also give you the best chance to use strategy to improve your odds. It's important to pay attention constantly during tables games, so that you can make sure you are using the best table game strategy possible at all times.
We have pages of strategy on all the most popular table games in the world, including the following:
Slot Game Strategy
Slots Strategy – Long thought to be one of the worst bets in the casino, slot machines can actually be not only fun, but profitable too – if you know how and when to play them. Learn all about how to take full advantage of slots on our slots strategy page.
Video Poker Strategy – They might look like slot machines, but video poker is an entirely different game. If you know the right strategies, there are actually video poker machines where you can have an edge against the casino!
Other Game Strategy
Casinos also have a few other games on offer, and we've made sure to provide strategy for them as well. If you're looking for something other than table games or slots, you'll find it here.
Keno Strategy – It may seem just like the lottery, but knowing the ins and outs of keno can help give you the best possible chance for a big win.
Scratch Card Strategy – Whether online or at the local convenience store, scratch cards are one of the most popular forms of gambling in the world. We'll show you how to get the best odds of winning in this game of luck.