As a result of the ever increasing popularity of online casinos and casino games, hundreds if not thousands of new casino games have been created over the years. Some are new takes on popular classics such as Texas Holdem, while others are completely new and innovative games. The range and diversity of games available at online casinos is incredible, as unlike real world casinos, there are no space restrictions for where table games and slot machines can be placed.
Because of this, many online casinos offer hundreds of different slot machines as well as a large collection of table games. On top of this, they also offer specialty games and new game formats not found in real world casinos. We've broken this page up into the four sections below so that you can easily find your favorite casino games including how to play them and the best casino sites to play at online.
Slot Machines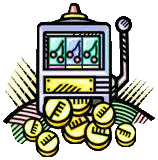 Slots are the most played of all games found at online casinos, with more than a thousand different slot games available at various online casino sites. Slot players can play classic 3 reel slots often referred to in real world casinos as one armed bandits.
They can also play 5 reel and 7 reel slot machine games too. Perhaps the most attractive feature of slot machine games is their simplicity. All you need to do is pop your coins in and spin the reels. The biggest lure of online slots is the massive progressive jackpots available at online casino sites, with jackpot prizes regularly hitting one million dollars and higher.
Video Poker Machines
Video poker machines are in a way, very similar to slot machine games. The basic premise is the same – all you need to do is throw in some coins and you can start to play immediately by pushing a few buttons. Like with slots, video poker also comes in numerous flavours with hundreds of different formats on offer including wild card games, joker games and of course multiple hand games where you can play tens and sometimes even hundreds of hands with a single spin. Video poker is extremely popular with online player becauses it uses Texas Holdem rules and also offers a jackpot feature, normally paid out when the player makes a royal flush.
Table Games
Table games are part and parcel of both real world and online casinos. Table games on offer at online casino sites include all the staple classics such as Blackjack, Craps, Roulette and Baccarat. Newer but equally popular games such as Caribbean Stud Poker, Pai Gow Poker, Casino Wars and Let It Ride Poker are just a few of the table games available to online casino gamblers.
What's more, many games such as blackjack are available in new and innovative formats such as perfect pairs and bonus blackjack, while roulette fans can play both the US and European format of the game. To find out how to play any casino table game, simply click on the links in the table at the top of this page.
Lottery Games
Lottery games are a newer addition to online casinos. Lottery game enthusiasts can now take part in various lottery style games online including keno and scratchcards. In these games, the player will normally pick a set of numbers and hope to match them against the randomly selected computer picks. Similar in a way to bingo, these games are hugely popular because the payouts can often be huge if you manage to get lucky!