Video poker machines have been around since the dawn of Las Vegas, providing gamblers with a classic poker game experience in a single-player setting. Since the mid-1990's, that concept has evolved to the internet by way of online casinos.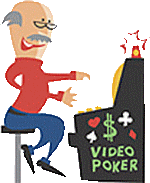 There are now around 800 known online casinos offering video poker games in a wide range of variants. You can find anything from the traditional Jacks or Better video poker game, to more exclusive versions like 7 Card Stud, Double Bonus Video Poker and Mystery Bonus Poker. But they are all developed on the same basic principles of standard poker games and hand ranks.
Video Poker Rules – How to Play
Video Poker is one of the most straight forward, easy to play games in the casino. You are dealt 5 cards. From those cards, you choose which cards you'd like to keep. All other cards are then replaced with new cards to reveal you final 5-card hand. If the hand falls into any of the wining combinations displayed on the pay table, you win the amount that corresponds to that hand strength. If not, you lose the bet.
Betting: Video poker machines will take up to 3 or 5 coins. The coin denomination will be displayed on the screen. By clicking the left or right arrow by the coin denomination, you can increase or decrease the cost per coin. Click Bet One to bet one coin at a time, or Bet Max to bet the maximum amount of coins.
Drawing a Hand: Once your bet is placed, click Draw and your cards will be displayed. If you chose to Bet Max, your hand will automatically be dealt.
Discarding: After deciding which cards you wish to keep, press the button below each of those cards. A HOLD sign will appear on top of each card you've chosen to keep. If you change your mind, press the button again to remove the HOLD sign. All cards that are not held will be discarded.
Drawing New Cards: When you are ready to get your new cards, press the Draw button. All cards that were not held will be replaced with new cards.
Reading Your Final Hand: The video poker machine will automatically tell you if you've ended with a winning hand, displaying the strength of the hand and amount won. If you did not win, you may place a new bet and try again.
Video Poker Rules – Winning Combinations & Payouts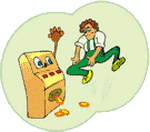 Different video poker games have different winning combinations. You can find all winning combination and their respective payouts per coin depicted on the screen, usually just above the playing area. For example, in standard Jacks or Better, the lowest winning combination is a Pair of Jacks, generally paying even odds.
Video Poker Rules – Wilds
Some video poker games have wild cards, such as Deuces Wild or Joker Poker. Wild cards will instantly take the place of any card that will give you the highest possible winning combination.
Video Poker Rules – Doubles
Video poker games with the word "Double" in the title will give you an option to double your winnings each time you have a winning hand. You may decline if you wish. If you take the double bet, it is a simple game of high-low. The computer gets one card, you get one card; the highest card wins. If you lose, the previous winning bet is lost. If you win, the previous winning bet is doubled and awarded.
Video Poker Rules – Multi-Hand Play
Multi-Hand video poker is very popular among serious video poker players. You will have the option to play more than one hand at a time, each requiring a separate wager. Multi-hand video poker may come in anywhere from 4-hands to 100-hands per play.
You will receive a single hand to start. After choosing what cards to get rid of, multiple hands will be dealt, replacing the discards with new cards, each from a separate deck. For example, if you keep A-A, you are then dealt multiple final hands, each containing A-A to start. It is possible to get 3 or 4 Aces in multiple hands since each is dealt from a separate deck.
More Online Casino Games